MAJOR DEVELOPMENTS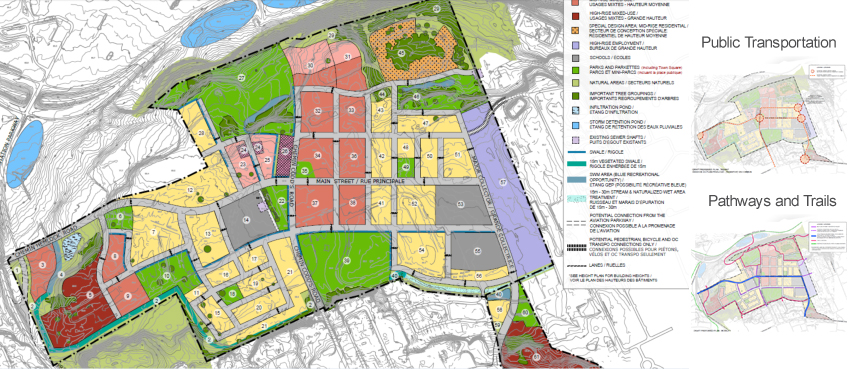 Download community design plan

CFB Rockliffe
The 310 acres (125 hectares) of the former Canadian Forces Base Rockcliffe, so close to Ottawa's downtown core, present a once-in-a-life-time opportunity to discuss and address issues of urban reintegration, quality of life and factors important in designing the place where you live, work, learn and play.
The mission is to develop an exemplary diverse contemporary neighbourhood offering a choice in housing, employment, commercial, institutional and leisure activities which will be defined by the site's unique setting, along with a commitment to environmental sustainability and long term economic viability.
– Approval of CDP: first half of 2015
– Plan of subdivision – later in 2015
– Infrastructure construction (streets, parks, water and sewer pipes) + land sales to builders: 2016
– First residents: 2017

Greystone Village (Oblates on Main Street)
Nestled between the Rideau River and Rideau Canal, a new urban vision takes shape. Rich in history and nature, Greystone Village is a 26-acre master-planned community of modern, exquisite homes set around a vibrant central plaza, complete with pathways, promenades and trails. A hidden gem in Old Ottawa East, The Oblates Redevelopment offers a life of elegance and exclusivity in a scenic riverside setting, minutes from downtown.
– Site plan approvals – 2015
– Site remediation and servicing – 2015-16
– Marketing – mid-2015
– First residents – 2017

The Isles (Chaudiere Islands / Domtar redevelopment)
The 3.5-million square foot project — three-quarters of it residential — is expected to take 15 years to complete, and will include condominiums, offices, retail spaces, a hotel and restaurants, as well as public spaces, bike paths and open plazas, incorporating the historic industrial feel, and many of the materials, from the existing buildings. The mixed-use neighbourhood is intended to be a showcase for sustainable development, and adopts the principles of the One Planet Communities program for creating green living and workspaces.
– Joint Ottawa and Gatineau planning approvals and urban design review: 2014
– Finalize site planning: 2015
– First phase, 2015-16: Albert Island (Ottawa), boulevard Taché (Gatineau)

Lebreton Flats (next stage)
The location is home to the Canadian War Museum, a multi-residential development, festival grounds, multi-use pathways, the Mill Street Brew Pub, the forthcoming National Holocaust Monument and other important sites of interest. The site is immediately adjacent to the soon-to-be completed Ottawa Light Rail Transit system. The NCC is now making approximately 9.3 hectares of these lands available for redevelopment, with the possible addition of 12.3 hectares of optional land.