OTTAWA'S NEW LRT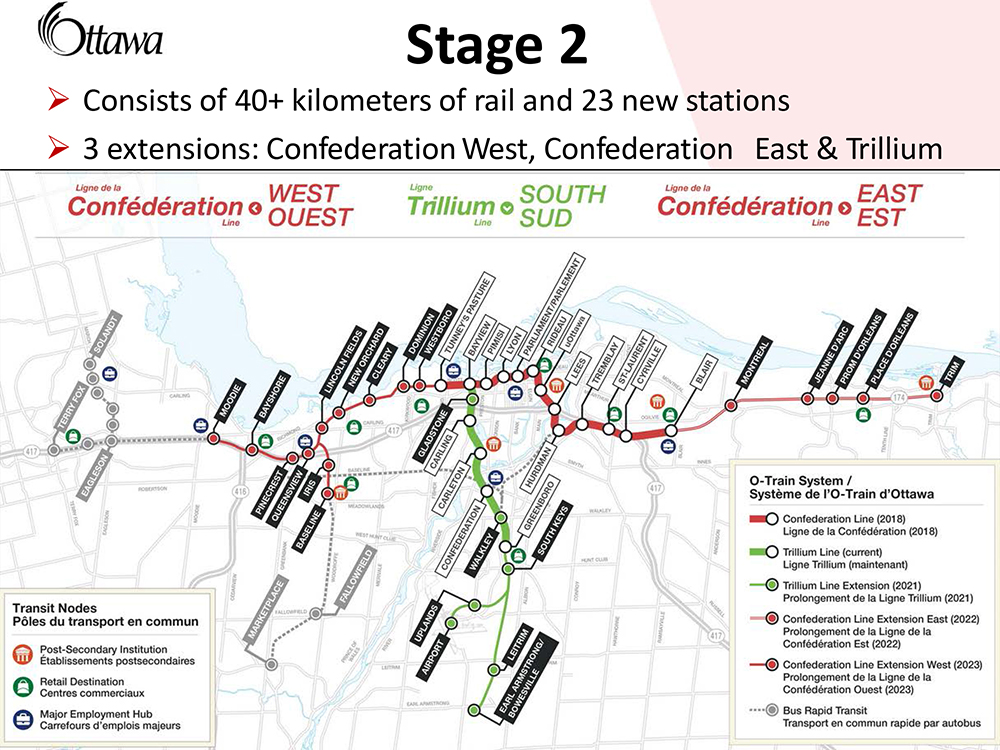 The city's $2.1-billion light-rail project promises to remake Ottawa's transit system and the neighbourhoods around its new stations. By making it easier to get to the core while creating attractive development opportunities around stations in suburban areas, the LRT will help change the way people work in Ottawa. While new developments will cluster around suburban stations, the LRT should directly boost the value of the properties on or near the underground downtown stations. Set to open in 2018, the transit system is expected to accelerate the movement of the city's largest tenant – the federal government – to newer buildings, largely outside of the core, opening up more space downtown.
The new 13-station light rail "Confederation Line" (part of stage 1) will replace 12.5 kilometres of the Bus Rapid Transits central east-west route, from Blair Road to Tunney's Pasture, including 2.5 kilometres underground through downtown.
About Stage 2 rail
Stage 2 will change the way we move around Ottawa. Think about it: Over 40 kilometres of rail and 23 new stations. That means shorter commutes, cleaner air, and a stronger economy.
You will be able to get on a train as far East as Trim Road, travel traffic-free through the downtown tunnel, and arrive as far West as Algonquin College or Moodie. If you're coming from the South, stage 2 will extend the existing O-Train Trillium line to Riverside South, while adding stations along the way at Walkley and Gladstone, along with a link that will take you all the way to Macdonald-Cartier International Airport.
The Stage 2 LRT project was approved unanimously by Ottawa City Council in 2013. Construction is set to start in 2019. Upon completion in 2023, Stage 2 will bring 70 percent of residents within five kilometres of rail.
The city needs to stay ahead of the gridlock being experienced in other cities. With Ottawa projected to grow to 1.14 million people by 2031, it needs to make sure the nation's capital continues to be on elf the best places in the world to live and work.